AN OEM CLOTH FACE MASK SUPPLIER
We Provide One-stop Service From Sampling、Procurement of Fabric & Accessories、Larger-scale Production、Inspection、Shipping and Customs Clearance.
Due to the stable cooperation with the raw material suppliers, our factory can purchase fabrics and accessories at the fastest time and the cheapest price. Coupled with large-scale production line, our cost is well controlled.Without the participation of middlemen, our cooperation will be more profitable and more efficient.
You can provide us with design drafts and requirements, or you can send us samples. Our technician will select the right fabric to make samples as quickly as possible and express confirmation to you with a very good quote.
As we have long-term cooperative relations with several large fabric suppliers、accessories suppliers、printing and dyeing plants、embroidery factories, etc., we can get the supply of raw materials at the best price in time.Coupled with the scientific management scheduling of several of our large garment processing plants, you can ensure that your order is completed in a timely manner.
Usually our departure port is Shanghai.If you have your own designated freight agency, we will sign a FOB contract with you, and if you need us to ship the goods to your designated location, we will sign a CIF contract with you. In addition to the advantages of prices, our transportation costs are also advantageous, whether by air or sea. 
Fill in your info to schedule a time to talk.  We Promise not to Use Your E-mail for Spam.
※ Cloth Masks for Kids Can Lead to a Better Future
    Masks are essential in this time and age. In the last twenty or so years, air pollution, especially in cities, has been on the rise. Various highly contagious and deadly viruses have also spread in different places globally. There have also been epidemic outbreaks caused by viruses. Although, some just don't agree. Thankfully, in the face of all the debates about mask mandates, the sensible people who correctly wear masks still outnumber those who don't believe in the protection masks provide.
    Apart from and even before the virus outbreaks all over the world in the past 20 years, masks that have been properly constructed and worn have been useful in protecting people. Cloth masks have been used to cover the nose and mouth during a cough or cold. They also help keep dust, pollen, and other particles out of your lungs. This is the case in various countries around the world. Furthermore, cloth masks have also been used for situations when one needs to maintain privacy or exposure to the public. For those who had procedures done on their face and need protection for healing wounds, masks have also been used.
    This mask is the most commonly used by people because of its low price and it is easy to acquire. Also called a medical face mask, traditionally it has a blue side and a white side, signifying which side should be on the outside. However, there are other colors available now, and there are some variations in their material and construction as well. Whether one side is blue or of some other color, this should be facing out and the white part should be inside. Also, these are strictly single-use only.
    The 95 in the name of this mask refers to its 95% rate of efficacy in filtering. These masks are also classified into medical and industrial use. Breathing is more difficult in this type of mask.
    In terms of filtering and blocking airborne particles, this type of mask is generally considered less effective. However, as opposed to the alternative of having no covering for the mouth and nose, cloth masks offer great protection.
    Cloth masks are made of different fabrics. Some are made from cotton, some from wool, and others from other fabrics. The type of fabric used in making a cloth mask is based on the intended purpose for which it is being used.
    Wool Cloth Masks Wool cloth masks should be used by those who have allergies or infections in their respiratory system because they help trap dust and pollutants that may cause these conditions. They also help keep your face warm during cold weather months when it is cold outside.
    Cotton Cloth Masks Cotton cloth masks are the most commonly used type of mask by those who have allergies or infections in their respiratory system because they help trap dust and pollutants that may cause these conditions. They also keep your face warm during cold weather months when it is cold outside.  
    A good quality cloth mask will provide you with effective protection from germs and pollutants which may cause allergies or infections in your respiratory system. The masks are also very easy to clean as they do not have any seams that may be contaminated by germs and pollutants. But one major issue is that many find them uncomfortable to wear, especially for long periods of time. If this is the case for adults, what more for children?
Should Cloth Masks for Kids be Mandated?
    For children, cloth masks are very useful. They help keep the face warm and prevent it from getting cold during the winter months. The mask also helps in protecting them from dust and other particles that may cause allergies or infections in their respiratory system.
    You can find a cloth mask for kids at any medical supply store or even online stores such as Amazon. As far as price goes, they do not cost a lot of money. A good quality cloth mask for kids may cost between $10 to $30 depending on the brand and type that you choose.
    Now, if cloth masks are effective for adults, can the same be said for children? Well, the World Health Organization (WHO), in response to the COVID-19 outbreak, recommends that children from the age of 12 up also wear masks following standards set for adults. However, they also advise that children five years and below not be obligated to wear cloth masks or any other masks. This is in consideration of the fact that at such a young age, they are still not capable of properly wearing and maintaining a mask on their own.
    Concerning children 6 to 11 years of age, the WHO and UNICEF laid out a set of factors to consider in deciding whether there is a need to wear cloth masks and other types of masks. These are:
If in the place where the child lives there is a high number and rapid rate of infection
If the child knows how to correctly use masks, including cloth masks, and also can maintain wearing  
If the child can easily acquire masks, including cloth masks and other effective alternatives and replacements
If the child can receive appropriate guidance on the wearing, removal, and disposal of masks, including cloth masks
If there are appropriate and satisfactory studies, discussions, and information dissemination among guardians, parents, teachers, counselors, mental health professionals, and relevant authorities on the possible effects on the psychological and social development of children
The child's regular contact with others in the surrounding, including elderly persons, especially with individuals with health issues posing serious risks
Picking the Right Cloth Masks for Kids
    Many health experts recommend that children wear surgical masks to school. Cloth masks on top of the surgical mask have also been recommended, if possible, for the child. In the same light, if only cloth masks for kids are available then that would be helpful as well. What is critical is that the cloth masks for kids be regularly cleaned and washed after use. Guidelines on proper handling must also be observed.
    Here are 3 things that should be considered when selecting cloth masks for kids:
    Cloth masks for kids must be made of fabrics that have been scientifically determined to be effective in filtering out airborne droplets carrying viruses. In general, cloth masks kids should have three layers. First, the other layer must be made of a material that is non-absorbent. The most common fabric for this is polyester. The middle layer, meanwhile, should also be non-absorbent as well as non-woven. Finally, for the innermost layer, cotton is typically employed because it is absorbent. Now all the layers correctly combined must be constructed into cloth masks for kids that offer good breathability. This is why it is critical to have the right type of materials that blocks out viruses but at the same time offer decent breathability.
    If possible, cloth masks for kids should have a flexible wire on the nose bridge so that the top part of the mask can stay secure above the nose. Cords and loops must also be of the right length and strength to keep the mask on the face securely.
    Naturally, kids come in different sizes. Fortunately, today, cloth masks for kids are commercially available in a wide range of sizes for varying ages. An important characteristic of effective cloth masks for kids is that they fit snugly and properly cover the areas around the nose and mouth without leaving gaps that would easily bypass the layers and slip in. 
    Overall, these things correctly considered should more or less result in cloth masks for kids that are effective, breathable, and comfortable.
Places Where Cloth Masks for Kids are Recommended
    Certainly, in closed environments, cloth masks for kids are strongly advised. Schools and even school buses are included. The same goes for closed and air-conditioned establishments such as shopping centers and entertainment facilities.
    There have been certain groups that have also recommended cloth masks for kids during sports, especially those that involve close contact with others. After all, in this case, social distancing is not really possible so the children should have a certain level of protection. However, it seems not everyone is keen on this. In any case, a good number of sports organizations and schools do implement this rule as much as possible.
Comfortable Cloth Masks for Kids
    The masks are going to be on for long periods of time. Adults can bear with it, but children can be far less tolerant. That is why making cloth masks as comfortable as possible is crucial. In most cases, if the child didn't like it the first time, that mask is never going to leave the sock drawer even when the pandemic ends. Store-sold cloth masks for kids range from inexpensive to pricey, so either way, if they are not used, they still cost money.    
    A critical area of concern is how cloth masks for kids are worn or hooked around the ears. Even just a few minutes after wearing, the pressure on the back of the ears can get pretty uncomfortable. For this, it would be good to look for cloth masks and accessories that address this issue.
    Some cloth masks for kids employ good quality stretchable bands that can somewhat reduce the pull on the ears. Some utilize buttons to hook each end of the loops around the back of the head. These can be directly sewn onto the loops. You can even put them on a hat.
    Another option to make cloth masks for kids more comfortable to wear is to use what are called "ear savers". These simple but clever little accessories come in different shapes and sizes, but they essentially function the same way. They are sort of like fish bones on which you can hook up the ear loops behind the head instead of the ears. You can choose which catch to hook to the loops based on how tight or loose the cloth masks for kids need to be.
    More kids wear eyeglasses these days, which is why nose wires are very useful. A common problem that certainly also affects adults is eyeglasses fogging up because of breath escaping the mask and going up the mask. Wires sewn into the nose bridge of cloth masks ensure that the top covering the nose fits as snugly as possible and prevents breath from escaping upwards.
    Children can also have sensitive skin, which is why the quality of the fabrics used on cloth masks is important. Prolonged contact on the skin as well as chafing due to movements can be unbearable for kids. Polyester, for instance, is a good fabric for masks but can be rather uncomfortable for some. Good fabric blends would be key. Also, parents can consider using some creams and other skincare products that would work well with cloth masks for kids. It would be better to consult pediatricians and dermatologists for this option.
Washing and Care for Cloth Masks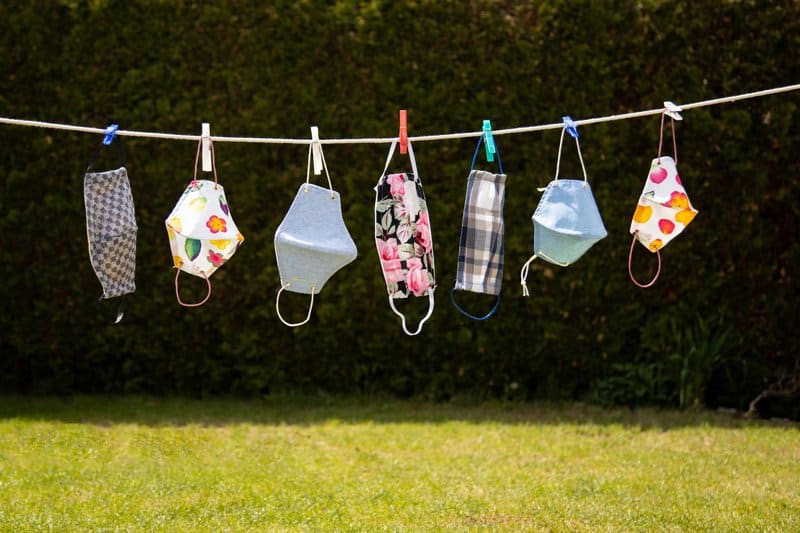 Reusability is undeniably the main advantage of cloth masks over others. This is why cleaning them properly on a regular basis is essential. In the case of cloth masks for kids, with all the school activities and playtime throughout the day, they tend to get dirtier faster than when adults wear cloth masks.
    The US Center for Disease Control (CDC) recommends that cloth masks for kids be properly washed on a regular basis. Even the proper removal of the mask is highlighted to reduce the risk of contact with airborne or droplet-borne germs and viruses. After the child removes the mask, he or she should wash hands properly with soap. The same goes for the adults who assist the child in doing so. This is also the proper routine when removing disposable masks.
    About the cleaning process, the CDC has stated that cloth masks can be included in the regular laundry. No need for special soaps or solutions because regular laundry detergent will do fine, except if there are dermatological issues for the wearer. Of course, due regard to the type of fabrics of the cloth masks for kids must be given. That is, washing machine settings should follow what the label guides. The same goes for handwashing cloth masks for kids.
    Cloth masks for kids, in general, can also be put into regular dryers. If they can be hung out and dried under the sun then that would be great too.
    People must accept the reality that wearing masks will be part of our daily lives well into the unforeseeable future. Even after one viral outbreak has ended, people must not let their guard down. At the least, if one has to stay in a crowded enclosed space with poor ventilation or if some people exhibit some symptoms of respiratory illnesses (even the common cold), effort must be made to cover the nose and mouth. Also, it would be good to get the next generations accustomed to wearing protection for the face. Making cloth masks for kids more common and familiar is very important. That way when they grow up, there will be little resistance, if any at all. It would be a good way to teach them to be more careful and responsible about their own health and that of others. Hopefully, the next generations will learn to no longer balk at the idea of putting in more effort and even accepting slight inconveniences for the benefit of all those around.
※ Cloth Masks Suppliers Work to Keep You Protected
    From merely functional, masks have already evolved into a fashion accessory. With growing health concerns related to pollutants and the spread of viruses, the need to keep the nose and mouth covered practically anywhere we go has never been more urgent. In many public and commercial establishments and public transportation, wearing masks has become mandatory. "No Mask, No Entry/Service" policies are commonplace now.
    Because everyone wears a mask, it's natural for some to take a step further with this type of protective item by imbuing them with elements of style, fashion, and creativity. Cloth mask suppliers, for example, have poured innovation and artistry into their products.
    Environmental concerns have also been raised with regard to the proliferation of discarded masks in dumpsites. Sadly, even the oceans are now littered with such waste.  
    With all these in mind, we will briefly discuss the popular types of masks available today. This article will also cover cloth masks suppliers use in their products. It is hoped that the information you will gather here will help you select the appropriate types that are effective and practical, perhaps even fashionable.
    There are a variety of protective masks available to the public. Right now, there are two general types of masks worn or used by people.
    Take a quick survey out in the streets or your building, and you will likely find that this type is the most commonly used. Surgical masks, in particular, which mostly come in light blue color, are easily accessible for purchase.  
    Also called medical masks, surgical masks typically have a loose fit on the face. They shield the nose and mouth from bacteria-containing droplets. These masks are made with non-woven fabrics, usually polypropylene. This type of material helps protect against splashes of liquid from entering your nose and mouth. Surgical masks can also filter and eliminate big particles in the air, preventing the wearer from splashing. It is pretty effective, but these masks are single-use only, hence the growing pollution problems because of their disposal. Their ending up in oceans worsens the problem of microplastic pollution.
    Then, there are multi-use disposable masks. Some of them can be used up to ten times with the help of commercially available disinfectants or even through washing. But, unfortunately, they will eventually end up in the trash.  
    A type of disposable mask that is known to offer more protection than ordinary surgical masks is the N95 mask. As the name suggests, it is capable of effectively blocking out 95% of particles, big and small, including liquids. It fits more tightly than a surgical mask. And, since it is designed with more advanced materials and construction, it is often harder to breathe while wearing it. It usually is primarily recommended for healthcare workers and medical first responders.   
    Cloth masks are essentially reusable masks made of various fabrics. Cloth mask suppliers design them to capture droplets released by the person who sneezes, coughs, or talks. They help stop the transmission of viruses, are inexpensive to buy or make, and can be washed and reused. Plus, cloth mask suppliers have made them in various colors and designs. You can purchase one that expresses your identity or mood. You can even make one yourself at home.
Fabrics Used by Cloth Masks Suppliers
    The effectiveness of cloth masks essentially depends on the fabrics used by cloth mask suppliers. Meanwhile, the US CDC has given three criteria for cloth masks to be effective. These are:
Materials should be tightly woven;
The fabric and construction allow excellent breathability; and
Consists of at least two to three layers of fabric.
    These are the materials utilized by cloth masks suppliers:
    It is easy to understand why cotton is one of the top choices for cloth mask suppliers. Cloth mask suppliers note the ideal balance of thickness, comfort, breathability, and filtering. It's also easy to access and relatively not expensive.
    There have been findings that seem to show that double-knit cotton may be the best filter fabric mask. There is a fray that occupies the opening between the threads. It is a good insulator and, more importantly, a better filter for airborne viruses and bacteria. Double-knit cotton can also almost completely filter your breath.
    Nylon is synthetic. It is a plastic that was pressed into extremely thin fibers and woven into a fabric. It doesn't fray like cotton. Therefore the filtration properties are not the same. Cloth mask suppliers, however, noted that it is less itchy and more comfortable.
    Cloth mask suppliers understand that nylon is not typically a good mask material on its own because while thin nylon fabrics can filter large particles, they can't work for small particles. Thicker nylon fabrics, however, are not breathable or effective because the air just escapes through the sides.
    But then, it is still an excellent choice for cloth mask suppliers. This is because nylon is great as an inner layer for a mask. Cloth mask suppliers found that nylon helps filter large particles while maintaining comfortable contact with the face. Cloth mask suppliers see that it is very flexible and can be stretched to provide the face with a good seal. Though, it only really seals as well as the mask's design allows. Cloth mask suppliers realize that its stretchability offers better adaptability than other types of masks.
    The fanciest of all the materials used by cloth mask suppliers, silk might seem to be too "luxurious" to be functional for a face mask. Most would be surprised to discover that is actually a pretty good material for a mask. Cloth mask suppliers observed that it offers exceptional comfort and ease for extended wearing. It has similar properties to cotton and also has a significant amount of copper in its composition. Cloth mask suppliers recognize copper's antibacterial properties that can help sterilize the air.
    However, the disadvantage for cloth mask suppliers and consumers is the high cost. Silk is expensive, and it is difficult to produce.
    Lycra is another type of synthetic fiber used by cloth mask suppliers. It resembles nylon and is used for several reasons. A thick variety of lycra is great for mask covers and inner layers for extra filtration.
    Spandex is comparable to nylon and lycra. It can typically make up a small part of the composition of the main fabric. It is often blended with nylon or cotton by cloth mask suppliers to help the fabric conform to the face. Another valuable characteristic of spandex that cloth mask suppliers appreciate about this material is its electrostatic properties. This is incredibly useful in catching tiny charged particles like water droplets.
    We have already discussed the types of fabrics used by cloth mask suppliers. What is important to note is that no single type of material is truly effective on its own in preventing viruses and droplets from entering. In fact, according to the National Institute of Standards and Technology (NIST) website, researchers have studied how well various natural and synthetic materials filter particles similar to the COVID-19 virus. Interestingly enough, three out of the five most effective materials at blocking particles had 100% cotton. Results also showed that having more than one layer of fabric could make cotton function better in filtering.
    Apart from the fabric, other factors must also be considered when selecting masks from cloth mask suppliers in the market. These are:
    No matter the materials used by the cloth mask suppliers, the mask will not work as it should if it does not fit the face properly. Studies have shown that leaks around the edges and outline of the masks can reduce the efficiency of the filter by more than 50%. The performance of N95 masks in avoiding such issues is the reason for their effectiveness.
    A properly worn mask wraps around the face, and protects all nostrils and chin, with no visible gaps. Each has a different design, so you need to find one that fits properly and feels comfortable. That way, you don't have to keep touching the mask to make adjustments. A mask with a flexible steel nose strip also helps to create a proper seal and keep the mask in place while preventing eyeglasses from becoming fogged. Cloth mask suppliers also stress that it is essential to keep the mask in place while speaking.
    Cloth mask suppliers say that multiple layers are recommended. A properly fitted cloth mask should consist of at least two layers of tightly-woven fabric. The third layer provides additional protection as well as adds filters. One study even suggests that filters made of polypropylene material derived from plastic are particularly effective. Some people recommend a coffee filter for this purpose, but we don't recommend it. After all, breathing through a coffee filter is very difficult.
    Cloth mask suppliers say that multiple layers are recommended. A properly fitted cloth mask should consist of at least two layers of tightly-woven fabric. The third layer provides additional protection as well as adds filters. One study even suggests that filters made of polypropylene material derived from plastic are particularly effective. Some people recommend a coffee filter for this purpose, but we don't recommend it. After all, breathing through a coffee filter is very difficult.
     When it comes to cleaning, cloth mask suppliers reiterate that some fabrics can be washed and dried easier than others. Cotton, silk, nylon, and spandex are all easy to wash and clean. Others may not be so.
    Essentially, a mask is as good as its fits. That is why you should get something that fits your face and allows your breath to flow through the material rather than around it. If you find it, you can go.
Materials and mask-substitutes to avoid
    The cloth masks suppliers design and produces masks to offer protection. Unfortunately, some think that merely covering the nose and mouth is already enough protection. Here are some things that people substitute for properly designed masks that may not be as effective:
    Most shirts are made of cotton. But, they may not have been woven tight enough to provide filtration. Layering many shirts together would not be a good idea either. This is because they will just pile up, become bulky, and ultimately be non-breathable and uncomfortable.
Scarfs, Handkerchiefs, and Bandanas
    Scarfs, handkerchiefs, and bandanas may be better than nothing, but not so much. They are usually designed to allow moisture to escape, thereby offering practically no filtration. This is mainly due to the lack of a face sticker. Breathing air simply follows the path of least resistance and bypasses thin barriers such as these.
    Fabric materials like batik cotton and TC600 bed linen actually have great filtering capability. This, however, does not mean that they are practical for masks. The reason is that it is challenging to breathe through them. This makes simple sense. Plastic bags filter 100% of the particles to stop everything.
    Latex is used in handling and storing dangerous substances and materials. However, there are those allergic to it, and the effects and reactions can be dangerous. Plus, it is also not really known for its breathability.
    Wool and fleece are excellent insulators but are heavy and offer poor breathability. Cloth mask suppliers know it is the worst combination for masks. Some studies have even suggested that fleece also releases particles when exhaling, making it much riskier.
    In these troubled modern times, a simple mask can provide so much protection. It may even help us avoid situations needing the use of complicated and highly technical medical machines if you think about it. A basic product from a cloth mask supplier can prevent a lot of complications from happening.
    Paying attention to health experts can guide us in choosing the proper masks to use. Manufacturers follow the studies of those experts in creating masks that work. Yes, purchasing masks may even be too much for families struggling financially. At the very least, find a way to get a suitable face covering that offers any degree of protection. Every tiny bit of effort will come a long way in keeping ourselves safe and healthy.
※ Fabric Mask Manufacturers Have You Covered
    It is apparent that people will have to keep wearing masks, or at least have one ready on hand, for much longer indefinitely. Notwithstanding lower numbers of cases of people with COVID in a population in a particular location, experience and logic have proven that masks are genuinely effective and necessary. Masks work well in preventing the transmission of other airborne viruses like the common cold and others that cause respiratory problems. Not only that, but it's also a way to avoid breathing in polluted and stale air in public spaces and transportation. In fact, it was a fairly common sight to see people going out in public in masks in urban places in Japan way before the COVID outbreak.
    Despite declining figures for COVID infection in many places, it has been advised by a number of medical experts that people continue wearing masks in crowded and enclosed spaces. The most common masks worn around are surgical masks. The problem with this type of mask is that they are not biodegradable. Since they are single-use only, used surgical masks have been piling up in dumpsites. Worse, they're also polluting the seas and nature. The solution is to use reusable masks made from appropriate materials and correctly constructed following the recommendations of health experts. This is where fabric mask manufacturers have to step up their game. Apart from aesthetics, fabric mask manufacturers must use and develop techniques and knowledge on the utilization of materials to create a truly effective mask.
Effectiveness of Fabric Masks
    How well fabric masks work primarily depends on the materials used by fabric mask manufacturers and the way they are made. The Center for Disease Control (CDC) of the United States identified three factors that would result in the effectiveness of fabric masks, and these are:
– The fabric must be of tightly-woven threads and fibers material
– While the fabric used may be of tightly-woven material, the mask must still offer decent breathability. Fabric mask manufacturers must ensure that air can still pass and exit through the filters and not through the sides.
– A mask constructed with just one layer of cloth material will not sufficiently filter germs and viruses in the air. Having three layers is the ideal construction. Also, combining different fabric types is recommended and done by fabric mask manufacturers to create an effective and progressive filtering cover.
With regard to types of materials, here are what health experts recommend that fabric mask manufacturers use:
    Cotton is high on the list of materials used by fabric mask manufacturers, and the reasons for this are simple. For one, cotton offers an optimum combination of softness, breathability, density, and excellent capability to filter out particles. Furthermore, supplies are abundant in many regions, and the cost is not as high as other materials.
    In terms of fabrics, filter tests show that 100% tightly woven cotton outperforms the majority of synthetic materials. This could be due to the fact that synthetic fibers, at microscopic levels, are rather smooth. Cotton fibers, meanwhile, have a slightly three-dimensional construction that can establish additional screens or blocks to particle exit and entry.
    In relation to the importance of the tightness of weaving, research has determined that in the comparison of aerosol filtration efficiencies of various fabrics, cotton's high thread count of 600 threads per inch did much better against the average 80 threads per inch of other materials.
    Nylon is a manufactured plastic pressed into the finest fibers, woven into a fabric, and does not come apart like cotton. Also, compared to cotton, it has been considered easier on the skin.
    However, fabric mask manufacturers realize that nylon cannot be used solely for masks because it can screen out larger but not small particles. If made into denser layers, breathability becomes a problem.
    Therefore, fabric mask manufacturers utilize nylon for the inner layers of masks. The material's flexibility also allows the mask to seal and close the sides properly.
    Lycra is a variety of synthetic fibers used by fabric mask manufacturers. It is similar to nylon and is used in a wide range of products. For masks, a dense layer of lycra is recommended for the outer and inner parts.
    Spandex is similar to nylon and lycra. This material is often blended with others to produce the desired fabric. Excellent elasticity is one of the properties recognized by fabric mask manufacturers. It helps the mask conform according to the shape of the face and seals around the mask edges.
    Silk, as everyone knows, is expensive. Praised for its smoothness, this material is soft to the skin, hypoallergenic, and generally effortless to clean. It provides superior comfort compared to other fabrics and contains copper, which is an antibacterial agent. Like other materials, fabric mask manufacturers use it with other fabrics.  
    Wool, another favorite, has the same advantages as silk, but not at the same cost. Using this material results in a very soft mask that is not constrictive to the exit and entry of air. Also, wool does not absorb moisture as much as other fabrics, which fabric mask manufacturers recognize.
    Hemp is known for its medicinal and health benefits. The fibers are hypoallergenic and have natural antibacterial properties, which fabric mask manufacturers understand are perfect for masks. The material is also very light and ideal for the outdoors.
    Just because a particular type of cloth material is capable of blocking off pollutants and viruses, it does not mean fabric mask manufacturers can use it. For example, heavy cotton has excellent filtration capability but is too heavy a barrier for air to flow through. Its breathability is too poor for a mask. The same can be said for latex and plastics. They can provide a shield but at the same time blocks your breathing. Gore-Tex, for example, released a public statement saying that while their material is excellent for clothing, unfortunately, they do not recommend it for masks because the material does not allow enough airflow for breathing.
How to Care for Fabric Masks
    The main advantage of fabric masks is that they are reusable. They are reusable because they can be cleaned and washed after each use. It is vital to keep them clean and sanitized as much as possible. Therefore, the fabrics and construction will eventually deteriorate with all the use and effort to keep it clean. Fabric Mask Manufacturers and health experts have recommended steps and routines to help keep your fabric masks clean and in condition, and here are some of them:
1.   Many of the latest masks made by fabric mask manufacturers are constructed from a reliable blend of materials that improve durability to withstand regular washing. A fabric mask is recommended to be used only for up to a day and then washed. This will help prevent the accumulation and spread of harmful microorganisms. That is why it is better to have several fabric masks you can go through for a few days.
2.    Sterilization by heat is an effective way of eliminating microorganisms. Soak the masks in boiling water if the fabric mask manufacturers allow it. Mix in detergent as well if possible. For regular washing, you can use simple warm water and detergent. Also, depending on the kinds of fabric and color treatment, you may even use a bleach solution. Drying the mask under the sun (but away from pollution exposure) after washing is encouraged. What is important is that you consider the fabric mask manufacturers' washing instructions.
3.    Choosing the right size ensures that the fabric masks will not be stretched too much and worn out of shape. The key is getting a snug fit that is enough to create a "seal" on the edges of the masks while worn. Of course, the mask should still be comfortable on the face and not too tight.
4.    Avoid getting the mask wet when worn. While some masks made by fabric mask manufacturers have waterproof outer layers, accumulating wetness and moisture can promote microorganism growth. It will also make the outer part of the mask more prone to catching and retaining germs and viruses.
5.    When storing freshly cleaned masks, fabric mask manufacturers recommend hanging them on hooks or hangers inside the closet. It is alright to fold them up and stack them in the dresser, as long as they are not exposed or regularly touched. If you have to remove your mask for a moment, make sure you do not directly touch the front of the mask. Always hold the mask by the loop or bands. If there is no place to hang it, place it inside a clean paper or plastic bag and place it near you.
6.    Fabric mask manufacturers do their best to produce durable masks that will last a considerable time. However, if the fabrics and materials are already worn out and distressed, and the fit has become loose, it is best to retire the mask and use newer ones.
    Many health experts believe that wearing a surgical mask under a fabric mask can increase protection. While there is yet a conclusive study to formally support this, the primary principle promoting this thought is the idea that there are more layers of filtration covering the mouse and nose. However, the biggest issue here would be comfort and breathability, which fabric mask manufacturers recognize. Some can manage their tasks and routines wearing double masks, but airflow is too restricted already for others. Whether it is just the fabric mask alone or with the surgical mask, it is crucial to have a layer of protection.   
    In situations where there is hazardous air pollution or an ongoing infection in a community caused by airborne viruses, it is necessary to have adequate cover and protection for the mouth and nose. In some countries, some people had already practiced wearing masks on public transportation and when walking in public even before the COVID19 epidemic.
    Regardless of whether people are vaccinated or not, fabric mask manufacturers and health experts recommend that people wear masks when talking and staying with large groups of people in enclosed spaces. It is recommended that a mask be worn when going to the supermarket, visiting a hospital, stores, and other commercial establishments.
    When one is suffering from a cold or cough, or any viral infection transmitted by respiratory droplets, it is advisable to wear a mask outside the home. If the person lives with many people at home, especially older people and young kids, it would also be better to wear them indoors.
    Ventilation and air quality are critical in any place, whether indoors or outdoors. The past few years have shown us how easy it is to get sick from elements in our surroundings. These elements are things that we cannot see or immediately feel. Therefore, caution and prudence are what we need to reduce the risk of getting affected and infected. Wearing a mask or keeping one handy and ready wherever we can help protect ourselves and others. That is why fabric mask manufacturers continue to develop and produce masks that are effective and easy to wear and carry around. The few seconds and little effort to wear a mask and bring one can result in huge protection for everybody.
Moving On And Living With It
    The collective observations and experiences of people around the world these past few years highlight how one person can affect others exponentially. Every act of carelessness or caution will have an impact.
    The mask has now become a symbol of responsibility. Sure, masks won't be critical if an epidemic comes to pass and has gone. However, no one can predict when the next outbreak will hit. Furthermore, "endemic" viruses causing the common cold, flu, and other respiratory diseases are still around and will continue to remain. That is why wearing a mask should never "go out of fashion" because it can and will still protect people. With the developments in style and cloth technologies, fabric mask manufacturers will make sure to produce fabric masks that are fashionable and acceptable to wear and, more importantly, effective in giving protection. Wearing a mask or keeping one handy can help prevent the mistakes we suffered in today's pandemic.
※ Key Things to Know About Cloth Masks
    The World Health Organization recommends using face masks during an outbreak of respiratory illness such as influenza or SARS. However, there are many types of masks available on the market today. What type would best suit you depends on several factors, including where you live, whether you're at home or traveling, and which symptoms you may experience. Here's everything you need to know about different kinds of masks and their benefits.
    There are four main categories of masks: surgical masks, medical masks, respirator masks, and cloth masks. Each category provides varying levels of protection against germs, depending on its design.
    A surgical mask covers both the nose and mouth. They provide good coverage over the eyes and ears while also protecting them from splashes and sprays. These masks are typically made out of cotton with elastic bands to keep them secure.
    Medical masks are designed specifically to prevent droplets from entering through the wearer's nose and mouth. They usually come equipped with straps, so they stay securely in place. Some medical masks even include eye shields to help block airborne particles from reaching the eyes.
    Respiratory masks are used to filter air before it enters the lungs. They are often worn by healthcare workers who care for patients with severe illnesses like tuberculosis. In addition to filtering air, some respiratory masks will also reduce noise pollution.
    Cloth masks are inexpensive and easy to make yourself. They are great for people living alone or those without access to other forms of protective equipment. While they aren't recommended for use outside of the house due to limited effectiveness, they still offer better protection than nothing at all.
How Does A Cloth Mask Work?
    A cloth mask typically consists of two layers: a thin layer of fabric covering the entire face and another piece of material placed inside the mask itself. When you put on a cloth mask, the inner lining helps trap dust and debris within the mask. Once you remove the mask, any dirt trapped between the outer and inner linings falls onto the ground. If you wash the mask regularly, you'll eliminate most bacteria and viruses.
    Types of cloth masks vary widely based on what materials they're made from. The three basic types of cloth masks are disposable, reusable, and homemade. Disposable masks are cheap but don't last long because they can only be washed once. Reusable masks have been laundered multiple times and tend to cost more money. Homemade masks are the cheapest option but require time and effort to create.
    These masks are sold individually and contain no additional features besides being able to cover your whole face. You simply pull off the top part when you want to wear one. Because these masks are single-use items, they won't protect you if someone else uses the same mask later. These masks are ideal if you plan to wear your mask frequently. You should throw away these masks after each use since they won't hold up well when washing.
    These masks look similar to disposable ones, except that there is an extra pocket where you insert your hands. This allows you to cleanse your hands as needed easily. Since this type of mask has a built-in hand sanitizer dispenser, you don't need to worry about running low on soap. However, you must remember to replace the liquid every few hours. Also, these masks may not fit everyone perfectly; therefore, they might feel uncomfortable during wearing. These masks are durable enough that you can reuse them repeatedly. To clean reusable masks properly, first rinse them under running water, then wipe down the surface with soap and hot water. After cleaning, let the mask dry completely before storing it again.
    You can easily make your own DIY face mask. All you need is an old T-shirt, a towel, and scissors. Cut off one side of the shirt where there isn't much bulk. Fold this section into thirds and cut along the crease line. Now fold the top third back towards the middle and press firmly against the sides until the edges meet. Repeat this process on the opposite end of the shirt. Finally, open the folded edge and tie it around your head using string or ribbon.
How Cloth Masks are Manufactured
    There are many ways to produce cloth masks. One way involves cutting out pieces of plastic sheeting and sewing them together. Another method uses paper bags as templates. Still, others involve making patterns directly on cotton sheets. Whatever technique you choose, remember to follow proper safety precautions while working with chemicals. Ways to produce cloth masks include:
Sewing Plastic Sheeting Together
    A common way to make cloth masks is by sewing several small squares of plastic together. For example, you could sew four 1" x 2" rectangles together at their corners. Then stitch all eight seams together. Next, turn over the resulting square, so its other side faces outward. Using a pair of scissors, carefully trim the excess plastic from the outside of the square. Make sure to keep the inside smooth for easy breathing.
    Some people prefer to print fabric designs directly onto cotton sheets instead of paper. It's easier than creating a paper template and saves time. Simply draw the design on the front of the sheet and staple it securely in place. Remove any staples once completed.
Can factories produce cloth masks?
    Yes! Some factories have started producing cloth masks. They use recycled materials such as polyester fiber, nylon thread, etc., to create masks. These masks are made available online through various websites.
    Factory-made cloth masks are better because they come pre-washed and ready to wear. You just need to add a bandana or scarf to cover up the eyes. Some of the advantages are listed below:
 They are cheaper compared to homemade versions.
2.    The quality is good since professionals produce them.
3.    They are more convenient when traveling due to portability.
    However, if you want to buy cloth masks, be careful to read the instructions provided by manufacturers.
Starting a cloth mask business
    If you want to start selling cloth masks in stores, you may find success through online platforms such as Etsy. However, starting a retail store requires significant capital investment. Instead, consider creating a wholesale account with a manufacturer. This allows you to sell their products at discounted prices.
How to find the right manufacturer
    When choosing a supplier for your cloth masks, look for companies that offer quality products at affordable rates. Also, check whether the company has experience manufacturing similar items. A reputable manufacturer of cloth masks will provide detailed instructions about how to care for the product. They also ensure that all raw materials used during the production of the cloth masks are safe and free from harmful substances.
How to choose the right materials
    The most important thing to keep in mind when selecting fabric for your cloth masks is durability. Look for fabrics that resist tearing and fading even after repeated washings. Cotton is often recommended due to its softness and breathability. Other popular choices include polyester, nylon, rayon, spandex, and bamboo fiber.
How to design cloth masks
    Designing your own cloth masks takes some creativity. Start by sketching ideas onto cardboard or other sturdy material. Once you've created several designs, test which ones work best. Remember to take note of any potential problems like wrinkles or holes.
    Cloth masks come in different shapes and sizes. Some have large openings, so they cover more area than smaller versions. Others feature small slits that allow airflow but limit visibility. You should be able to decide what kind of cloth masks work best based on your needs. For example, if you're planning to wear it outdoors, opt for something larger because it'll protect your eyes better. On the flip side, if you plan to wear it indoors, go for a smaller version since it won't block airflow too badly.
     Once you've decided on a style, make sure to add details like logos, embroidery, and buttons. Consider adding elastic bands around the edges to help secure the mask over your face. Finally, don't forget to label each of the cloth masks clearly. That way, customers know exactly where to put them back once they finish using them.
Choosing Cloth Masks to Buy
    There's no shortage of options available today. Here are just a few:
     Cotton cloth masks are usually cheaper than those made from synthetic fibers. They tend to feel softer against the skin and breathe well. But they do require frequent washing to maintain hygiene standards.
Masks made out of synthetic fibers
    Synthetic cloth masks are durable and easy to clean. They typically cost less than cotton. However, their price tag may not always reflect this advantage. Many cheap synthetic masks contain low-quality components such as plastic instead of high-grade materials like silk. This means they might break easily.
Masks made from natural fibers
    Natural fiber cloth masks are generally pricier than others. Their higher prices are justified by the fact that these types of masks are designed to last longer. The downside? These masks aren't very comfortable to wear. If you want to save money while still getting quality products, stick to basic cotton masks.
    Silk masks are expensive. But they're extremely comfortable and easy to clean. Silk masks are also hypoallergenic. They offer superior comfort compared to other kinds of masks. Unfortunately, they're also quite delicate. So unless you're willing to invest time into maintaining them properly, avoid silk masks altogether.
    Wool is another popular choice among consumers. It offers similar benefits to silk masks without being as pricey. Like silk, wool masks are soft and breathable. And unlike most other fabrics, wool doesn't absorb moisture. As long as you keep your cloth masks dry, they shouldn't get moldy.
    Hemp masks are often used by people who suffer from allergies. Because they're naturally anti-bacterial, they prevent bacteria growth inside the mask itself. Plus, hemp masks are lightweight and flexible. They're great for outdoor activities.
Cloth Mask Care and Safety Tips
    Here are some things you should consider when caring for your cloth masks:
   Wash all your masks at least twice per week in hot water. Use mild soap and warm water. Avoid harsh detergents because they could damage the fabric. Dry thoroughly after every wash. Don't use bleach or any kind of stain remover. Instead, gently wipe away stains with damp paper towels.
2.    Cloth Mask do's and don'ts: Do make sure your masks fit comfortably on your face. Adjust them until you find one that fits snugly but isn't too tight. Do try different sizes before buying more masks. Don't forget about ventilation holes! Make sure there are enough openings so air can flow freely through the mask. Also, remember to remove it whenever you need to take a shower or go swimming. Otherwise, you risk contaminating yourself with germs.
3.     Don't let your masks become wet. Keep them stored in an area where they won't be exposed to direct sunlight. Moisture will cause the material to rot over time.
4.    Before buying a new set of cloth masks, read the label carefully. Make sure that the material is flame-retardant and non-flammable. It's best not to purchase any masks without knowing exactly which type of fabric they're made from. Some fabrics contain toxic dyes and other chemicals that could cause health problems.
Time to Learn to Live with Masks
    The recent health crisis has reminded us to pay more attention to basic precautions and care related to our health. It has been proven that masks provide excellent protection against viruses and bacteria around us. It is time to make mask-wearing a habit.
    Many have preferred disposable face masks, but there are serious environmental and practical implications. That is why well-designed cloth masks with proper materials would be an ideal choice.
※ Ski Mask Manufacturers Get You Ready For the Snow and Slopes
    It's almost that time of year again. Winter will soon be upon us, and out of our closet and storage boxes come our clothing and gear for daily use and leisure activities in the cold outdoors. For those engaging in winter sports and activities, protection for the head and face are certainly essential. Most especially, the ski mask.
    Ski mask manufacturers produce ski masks in many styles, shapes, and colors. Several types of ski masks differ based on their purpose.
    The most common type of ski mask is the balaclava, which offers protection against the elements. Balaclavas are available as either a single-piece or a two-piece option. Single-piece balaclavas are constructed of one piece of cloth that goes all the way up to the wearer's head. Two-piece balaclavas are made of two separate pieces. One piece is placed over the head and another piece covers the mouth area. Other types that ski mask manufacturers produce include the ski cap, ski goggles, and ski visors. However,  these days, the term "ski mask" refers primarily to that type of balaclava.
How common are ski masks?
    You see people wear them everywhere. At the slopes, they show how serious skiers and snowboarders are with their performance. On the roads, motorbike riders and cyclists need them to keep the smoke and bugs from going in their mouths while cruising. Soldiers use them not only for protection but also to instill fear in their enemies. For the public, especially these days, they are also used in preventing the spreading and catching airborne viruses.
History of the balaclava ski mask
    So how did this type of head and face protection start? How did ski manufacturers come to produce such gear?
    The word Balaclava came from a city in Spain called Bailen which means 'pig' in Spanish. The name was given by Napoleon Bonaparte after he saw the locals wearing traditional sheepskin headgear during the siege of Sevastopol. The balaclava ski mask became popular during the Crimean War due to its warmth and ability to protect against wind and rain. The British army adopted the term balaclava and had ski mask manufacturers create their own version of the same item. They wore this type of ski mask under their helmets to avoid getting frostbite.
    By some accounts, the first balaclava appeared around 1820. It was made out of fur and covered the whole head. By 1870, it had become a common piece of clothing worn by soldiers. The first modern balaclava was invented by John Leech in 1872. He created a soft, seamless balaclava that was light, comfortable, and breathable. Since then, other ski mask manufacturers have started making their own versions of balaclava ski masks. Today, balaclavas come in many sizes, shapes, and colors. Some ski mask manufacturers even thought of giving them built-in ear flaps.
Types of balaclava ski masks
    Balaclava ski masks are not just one thing. There are three main types of balaclava ski masks produced by ski mask manufacturers. These are:
    This type of balaclava ski mask covers the entire face except for the eyes. It usually comes with a chin strap to hold it securely over the wearer's head.
    A face cover is similar to a head covering except for the front part. It has eye holes cut into it so that you don't have to put goggles or sunglasses on.
    This type of balaclava is designed specifically for motorcycle riders. It keeps dirt, mud, and water away from the rider's helmet.
    Ski mask manufacturers also produce masks with varying details and construction for many uses. Here are some examples:
    This type of ski mask has a solid front panel that covers the forehead, nose, cheeks, and chin. Ski mask manufacturers recommend this for those who spend long hours outdoors or work in environments where they are exposed to harsh weather conditions.
    Consisting of two parts, ski mask manufacturers make this with an outer shell and a hood. Similar to a ski cap, this kind of ski mask protects your ears, nose, mouth, and forehead. However, unlike a ski cap, it doesn't have ear flaps.
    This is similar to a bandana. It's usually made out of cotton. However, it differs in that it does not have a zipper. Instead, ski mask manufacturers put adjustable straps so that they can be tied around your head.
    Balaclava neck warmers are designed specifically to protect the neck region during winter activities such as skiing, snowboarding, sledding, etc. They are also used by mountain climbers, hikers, and others who need to keep their necks warm.
    These kinds of balaclava ski masks are specially designed to shield your eyes from the sun. Ski mask manufacturers recommend they be worn in summer as well as winter.
How do ski mask manufacturers make balaclavas?
    There are different ways ski mask manufacturers produce this type of headgear. Here are the basic methods used today:
    This method employed by ski mask manufacturers involves using hand stitching to sew together pieces of fabric. Hand sewing takes time and requires patience. Extra care for small details such as threading the needle and buttonholes is necessary.
    Knitted balaclava ski masks do not necessarily require manual labor. Instead, ski mask manufacturers utilize machines. The knitting process helps make sure that there will be no loose threads when finished.
    For machine sewing, ski mask manufacturers use machine needles to stitch various parts of the balaclava together. It does require less time than a hand-sewn balaclava ski mask, but there are more steps involved.
Fabric used in making ski masks:
    Acrylics are very strong and durable. Most ski mask manufacturers use this material because it can withstand harsh weather conditions. However, it does not breathe well and tends to get hot when exposed to sunlight.
    Polyester is a synthetic polymer that is lightweight, flexible, tear-resistant, and easy to dye. However, for ski mask manufacturers, the downside to using polyester is that it is not as warm as acrylics. Also, it feels rough and scratchy.
    Cotton is an extremely absorbent material that breathes well. It is also very cheap and readily available. It is generally used by ski mask manufacturers because it absorbs sweat easily.
    Silk is a natural fiber that is often used in luxury items such as handbags, scarves, and gloves. Ski mask manufacturers recognize it because it is also highly durable and long-lasting. One major disadvantage of using silk is that it is expensive.
    Nylon is a manmade fiber that is widely used in garments like jackets and pants. It is also quite popular for ski mask manufacturers because it is both elastic and stretchy.
    Wool is a natural fiber that comes from sheep. Ski mask manufacturers use it because it is warm as it is able to trap air inside its fibers. Because of this, woolen clothes tend to feel bulky.
What are the benefits of having balaclava ski masks?
    Having ski masks helps you stay safe during the winter months. And skiing is a great way to exercise your body and burn calories. When skiing, however, there are certain things that you should be aware of. Ski mask manufacturers make balaclavas that help protect the wearer from snow, wind, rain, dust, and insects. They also keep dirt off your skin. In addition, they prevent direct contact between the wearer's skin and cold air.
    Need more convincing? Let's go further into the advantages that ski mask manufacturers want you to understand. Here are some of the reasons why you need them:
1) Protects your eyes and face
    Snow and ice particles can damage your eyes if they are hit directly. You can avoid that problem by wearing a balaclava ski mask while skiing.
    Balaclava ski masks provide protection against cold winds and moisture. As a result, they keep you warmer and more comfortable throughout the winter season.
    Sunlight reflects off snow and ice, causing people to get sunburnt. If you wear a balaclava ski mask, you will be able to block harmful rays.
    Being covered up with a balaclava ski mask prevents glare from snow and ice. This makes it easier for other skiers to see where you are going.
    Skiing in wet conditions can make your clothes heavy and uncomfortable. By wearing balaclava ski masks, you can stay dry and enjoy a good time.
6) Stops scratches and bruises
    Winter sports like skiing can cause minor injuries to the skin. Wearing a balaclava ski mask can reduce the chances of getting cuts and scrapes on your hands and arms.
    When skiing, you lose a lot of energy due to friction and movement. A balaclava ski mask reduces the amount of heat lost through the head and neck area.
8) Prevents facial chapping
    Facial chapping occurs when the face gets too cold and becomes irritated. Having balaclava ski masks on will help to reduce the risk of chapping.
    There are many dangers associated with skiing. For instance, falling down and hitting rocks can lead to serious injuries. Using balaclava ski masks will help you stay safer.
10) Makes you look fashionable
    The best part about balaclava ski masks is that they come in different designs and colors. This means you can choose one that suits your personality and style.
Ski mask care and maintenance
    You must know how to take proper care of your balaclava ski mask so you should pay attention to the instructions provided by the ski mask manufacturers.
    It is advisable to wash your balaclava ski masks regularly to remove any dirt or debris. Make sure not to use cleaning agents as these may harm the material and lead to premature deterioration. If necessary, you can also remove any stains or marks using a mild detergent. Use warm water and then rinse thoroughly. After washing, let them dry naturally. Always store your ski mask in a cool place. Also, don't expose them to sunlight as this can fade the color and affect their texture.
    With proper care, ski mask manufacturers are confident that ski masks will have an average lifespan of three years.
How to choose the right ski Mask - Balaclava Ski Masks
    There are various types of ski masks available in the market today. Whether you have decided to buy a new ski mask or want to replace your old one, choosing the right ski mask can be difficult. Here are some tips offered by ski mask manufacturers to help you choose the perfect ski mask:
Choose a ski mask based on your needs
    The first thing you need to do before buying a ski mask is to decide what kind of skiing you plan to do. Do you plan to go on long-distance trips? Or would short day trips suffice? You also need to consider whether you prefer cross-country skiing or downhill skiing. These factors will determine which type of ski mask you need.
    Ski mask manufacturers offer balaclava ski masks available at all prices ranging from cheap to expensive ones. Most people tend to spend more money on ski masks than they do on winter clothing. Therefore, it is very important for you to carefully evaluate the cost of each ski mask before making a purchase.
    Features such as adjustable straps, ventilation holes, and zippers that ski manufacturers employ are things that make ski masks unique. They also provide ease in wearing and removing the ski mask.
    Design is another factor that determines whether a ski mask is suitable for you or not. Some ski mask manufacturers design products specifically for men while others are meant for women only. Other design elements include color and pattern.
Ask friends and family members
    If possible, ask other skiers who own ski masks for recommendations. This way, you can get expert advice on which ski mask suits your needs best.
    In conclusion, what is essential is that ski masks should always be made of high-quality materials. If it feels too thin, it won't offer much protection. However, if it is too thick, it can cause discomfort. Therefore, it is important to study the product information from the ski mask manufacturers to help you find the right balance between thickness and comfort. In addition, it should fit snugly over your head without leaving gaps.
    Do consider this key information and suggestions, you'll be able to find the right ski mask to suit your needs for winter. Along with all the right gear, you're all set to have an awesome time in the snow and on the slopes.
Fill in your info to schedule a consultation. We Promise Not Spam Your Email Address.